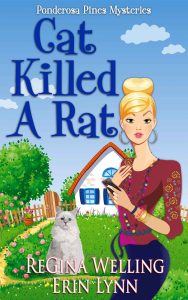 About Cat Killed a Rat (The Ponderosa Pines Series – Book 1):
Nothing bad ever happens in Ponderosa Pines
That's what anonymous gossip columnist Chloe LaRue and her best friend, town matriarch EV Torrence thought. But then, Luther Plunkett, a handyman with aspirations, raises a stink over building regulations, and promptly turns up dead.
Small-town mysteries have a way of snowballing out of control for someone who has been seen arguing with the now-deceased at a public function.
Before the body gets cold, EV becomes suspect #1 in the murder, and not even Chloe can stop the rumor mill from churning. Not since the founders argued over naming it Ponderosa Valley after a ranch on an old TV show, or Whispering Pines for the trees surrounding it have the residents of Ponderosa Pines been so divided.
Against Detective Nate Harper and Deputy Dalton Burnsoll's orders, Chloe and EV mount their own investigation—but what they uncover might just rock the community to its very core. Could one of their own beloved citizens really be a killer?
If you like humorous cozy mysteries set in Maine, best friends solving mysteries, and quirky characters, Ponderosa Pines is the place for you!
Books in this series:
1. Cat Killed A Rat
2. Crafting Disorder
3. Caught in the Frame
4. Bait and Snitch
Targeted Age Group: Trade
Written by: ReGina Welling Erin Lynn
Buy the ebook:
Buy the Book On Amazon
Buy the Book On Barnes & Noble/Nook
Buy the Book On Apple Books
Buy the Book On Kobo
Buy the Print Book:
Buy the Book On Amazon
Buy the Book On Barnes & Noble/Nook
Author Bio:
ReGina Welling and Erin Lynn are a mother-daughter writing. Together, they have penned two series, The Fate Weaver books and the Ponderosa Pines Cozy Mystery series. ReGina is also the author of the Psychic Seasons books and Earthbound series. They live in rural Maine.
Follow the author on social media:
Learn more about the writer. Visit the Author's Website
Facebook Fan Page
Instagram
This site contains affiliate links to products. We may receive a commission for purchases made through these links.