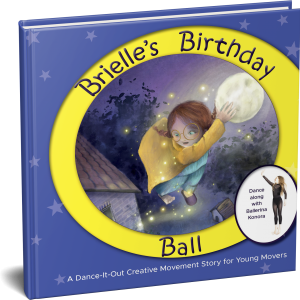 About Brielle's Birthday Ball: A Dance-It-Out Creative Movement Story for Young Movers:
Pull back the curtain on the children's imagination stage where kids join Brielle celebrating her seventh birthday on the moon. A was-it-just-a-dream adventure packed with movement concepts and subtle life lessons. Ballerina Konora suggests moves to develop body coordination, focus the breath, and learn dance fundamentals.
"Another wonderful journey into the imagination with Ballerina Konora, perfect for young dancers everywhere!…"
~Reedsy
Targeted Age Group: 4-7
Written by: Once Upon a Dance
Buy the ebook:
Buy the Book On Amazon
Buy the Print Book:
Buy the Book On Amazon
Author Bio:
Brought to you by a mother-daughter team. Konora is a professional ballet dancer. Her mother taught creative movement and ballet for decades. She was honored to be chosen and recognized by her local City Council (2014) for embodying the spirit of partnership and commitment to children in our community for her work with young dancers. She's breathed dance from every angle: child to pre-professional to adult ballet student, zoom student, dance teacher, dance mom, competition mom, ballet-school parent-guilder, audience member, recital planner, business owner, and board member.
Once Upon a Dance's first pandemic creation, Dancing Shapes, has won several awards:
• 2021 Independent Press Award WINNER
• 2021 15th Annual National Indie Excellence® Awards Finalist
• 2021 Next Generation Indie Book Awards Finalist
Follow the author on social media:
Learn more about the writer. Visit the Author's Website
Facebook Fan Page
Instagram
Pinterest
This site contains affiliate links to products. We may receive a commission for purchases made through these links.