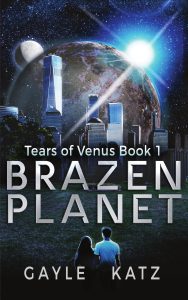 About Brazen Planet:
A government secret threatens all life on Earth. Can one scientist get off the ground to save humanity and herself before doomsday?
Charlotte Miller was only a little girl when her mother left on an exploratory mission to Venus and never returned. Twenty years later, she's a government scientist still plagued by her mom's disappearance when she uncovers startling data that points to a worldwide calamity.
Now, this dedicated daughter faces two daunting mysteries, and her quest for answers lies in cold, dark space.
Targeted Age Group: 25+
Written by: Gayle Katz
Buy the ebook:
Buy the Book On Amazon
Buy the Book On Barnes & Noble/Nook
Buy the Book On Apple Books
Buy the Book On Kobo
Buy the Print Book:
Buy the Book On Amazon
Author Bio:
Gayle is a fan of sci-fi & fantasy adventure, sweet paranormal romance, and psychological horror–though not necessarily in that order. Hoping to scare you, make you swoon, and root for her characters, her love of kick-butt heroines and sassy snark shines through in her work.
If you'd like to find out about her new releases, exclusive promotions, and get some free reads, check out her website: GayleKatz.com
Follow the author on social media:
Learn more about the writer. Visit the Author's Website
Facebook Fan Page
Twitter
Instagram
This site contains affiliate links to products. We may receive a commission for purchases made through these links.