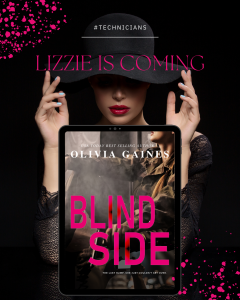 About Blind Side:
Elizabeth Perkins was dying. If only she could have seen it coming and not gotten blasted from her Blind Side as she struggles to save one more. She's surprised by who shows up to save her.
The Technicians return to summarize unanswered questions and to start a new adventure. There is always love, laughter, and learning in the next installment of the international best-selling serial, the Technicians.
Targeted Age Group: 25+
Written by: Olivia Gaines
Buy the ebook:
Buy the Book On Amazon
Buy the Book On Barnes & Noble/Nook
Buy the Book On Apple Books
Buy the Book On Kobo
Author Bio:
Olivia is a USA Today Best Selling, Emma Award, and multiple award-winning author who loves a good laugh coupled with some steam, mixed in with a man and woman finding their way past the words of "I love you." An author of contemporary romances, she writes heartwarming stories of blossoming relationships filled with heart and humor. The Technicians, The Blakemore Files, and the Modern Mail Order Brides, are one clicks for thousands of readers.
When Olivia is not writing, she enjoys quilting, playing Scrabble online against other word lovers and spending time with her family. She is an avid world traveler who writes many of the locations into her stories. Most of the time she can be found sitting quietly with pen and paper plotting more adventures in love.
Olivia lives in Hephzibah, Georgia with her husband, son, grandson and snotty evil cat, Katness Evermean.
Follow the author on social media:
Learn more about the writer. Visit the Author's Website
Facebook Fan Page
Twitter
Instagram
This site contains affiliate links to products. We may receive a commission for purchases made through these links.