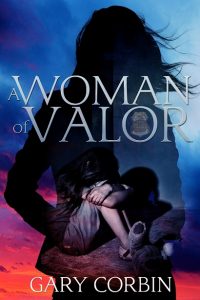 About A Woman of Valor:
For Valorie Dawes, #metoo means it's time to #fightback.
In this exciting, character-driven police procedural by acclaimed author Gary Corbin, rookie policewoman Valorie Dawes has a mission: take serial child molesters like Richard Harkins off the streets of her small hometown of Clayton, CT–for good.
But Valorie's past includes childhood abuse trauma of her own, and her battle with this cunning, vicious criminal awakens memories and emotions she'd rather forget.
Battling sexism within the department and vilification in the media as a reckless incompetent, Val finds few allies in the pursuit of this elusive, cruel criminal, even as he continues to victimize women and girls in the community.
Can Valorie overcome the trauma she suffered as a child and stop Harkins from hurting others–or will her bottled-up anger lead her to take reckless risks that put the people she loves in greater danger?
Targeted Age Group: 18+
Written by: Gary Corbin
Buy the ebook:
Buy the Book On Amazon
Buy the Book On Barnes & Noble/Nook
Buy the Book On Smashwords
Buy the Book On Apple Books
Buy the Book On Kobo
Buy the Audio Book:
Buy the Book On Amazon
Buy the Book On Audible
Buy the Print Book:
Buy the Book On Amazon
Buy the Book On Barnes & Noble/Nook
Author Bio:
Gary Corbin is a writer, editor, and playwright in Camas, WA, a suburb of Portland, OR.
Join Gary's mailing list (http://garycorbinwriting.com/about-gary-corbin/contact/) and be the first to be notified of free preview editions, 99 cent specials, free book promotions, and exclusive content such as deleted chapters and early-draft excerpts of upcoming novels.
In his eighth and latest release, In Search of Valor, released in March 2020, Valorie Dawes (from A Woman of Valor) battles an international kidnapping ring, who took her friend's daughter. Now they know Val is helping her–and they'll stop at nothing to eliminate her as a threat.
The second book in that series, A Woman of Valor, released in June 2019, tells the explosive story of a rookie policewoman with a #metoo past pursuing a sex offender in Clayton, CT.
Book 3 in the Valorie Dawes Thrillers, A Better Part of Valor, will release in late 2021.
Lying in Judgment, his Amazon.com best-selling legal thriller, was selected as Bookworks.com "Book of the Week" for July 11-18, 2016, and was the feature novel on Literary Lightbox's "Indie Spotlight" in February 2017. The long-awaited sequel to Lying in Judgment, Lying in Vengeance, was released in September, 2017.
Gary's second novel, The Mountain Man's Dog, came out in June 2016, kicking off the Mountain Man Mysteries series. The sequel, The Mountain Man's Bride, was released Feb. 8, 2017. The third book in the series, The Mountain Man's Badge, was released in June, 2018.
All of these mysteries are available in hardcover, paperback, ebook, and audiobook formats.
Gary's plays have enjoyed critical acclaim and have enjoyed several productions in regional and community theaters. His writer's reference, Write Better Right Now: A Dozen Mistakes Good Writers Make-And How to Fix Them, is available exclusively on Kindle.
Gary is a member of the Willamette Writers Group, Northwest Editors Guild, 9 Bridges Writers Group, PDX Playwrights, the Portland Area Theater Alliance, and the Bar Noir Writers Workshop, and participates in workshops and conferences in the Portland, Oregon area.
A homebrewer and coffee roaster, Gary loves to ski, cook, and watch his beloved Red Sox and Patriots. He hopes to someday train his dogs to obey. And when that doesn't work, he escapes to the Oregon coast with his sweetheart.
Follow the author on social media:
Learn more about the writer. Visit the Author's Website
Facebook Fan Page
Twitter
Instagram
Pinterest
LinkedIn
YouTube
This site contains affiliate links to products. We may receive a commission for purchases made through these links.