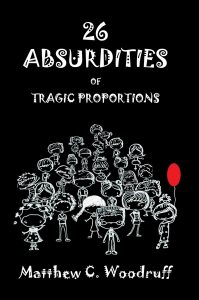 About 26 Absurdities of Tragic Proportions:
Awarded Finalist Prize in the 2019 American Fiction Awards 'Short Stories' Category by American Book Fest. An utterly fascinating and wryly composed collection of companion stories to Edward Gorey's alphabetical illustrations in 'The Gashlycrumb Tinies'. These darkly humorous tales capture the essence of wit and satire with one incredible tale for each child depicted in Gorey's most famous illustrations, from Amy's stumble down the stairs to Zillah's death by gin. These tales are all about human behavior, characteristics, chance and choice, and life and death. From Mystery to SciFi, from Drama to Fairy Tale and from Adventure to Gothic, this book has something for everyone. 2021 Reader's Favorite 5-Star Award Winner.
Perfect for any Edward Gorey, Charles Addams, John Bellairs or Tim Burton fans.
Targeted Age Group: 16+
Written by: Matthew Woodruff
Buy the ebook:
Buy the Book On Amazon
Buy the Book On Barnes & Noble/Nook
Buy the Book On Smashwords
Buy the Book On Kobo
Buy the Print Book:
Buy the Book On Amazon
Buy the Book On Barnes & Noble/Nook
Author Bio:
If you ever laughed at a dude slipping on a banana peel, even if you rushed to help lift him up – you may be a dark humor afficianado. It turns out the people who most understood and enjoyed dark humor like Edward Gorey's or Tim Burtons were also the most intelligent, educated, least troubled, and least aggressive subjects. Apparently if you're smart and in a manageable emotional state, you're ready for a dark joke. The people least likely to be black-humor fans were the average folks, with medium values for intelligence, education, stability, and aggressiveness. All of which may suggest another reason why people who enjoy dark humor are snickering all the time: We're better than everyone else. (Just joking.)
With sardonic wit and complete irreverence, Matthew Woodruff is one of America's pre-eminent humor writers. The great skill with which he slices through cultural euphemisms and political correctness proves that Woodruff is a master of dark humor and satire and one of the most observant writers addressing the human condition today.
It is said that Matthew was born with a book in one hand and a pen in the other (his poor mother has never forgiven him but hey, at least it wasn't a typewriter…) Shortly after the release of his first book, Matthew was named 'Author of the Month' by Self Publishers Showcase for September, 2018.
A native New Yorker, Matthew is now on staff at the University of Florida in Gainesville, FL. Matthew is an award winning magazine features writer, editor and publisher. Matthew's vision of the world around us – seen in his dark humor and dark fiction works – is unique and not to be missed.
Follow the author on social media:
Learn more about the writer. Visit the Author's Website
Facebook Fan Page
Twitter
This site contains affiliate links to products. We may receive a commission for purchases made through these links.