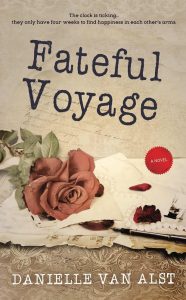 "About Fateful Voyage:
What lengths would you go to for love? A terminally ill heiress trying to make the most of what little time she has left and a suave mobster on the run from the executioners electric chair, meet and fall in love on a trans-pacific crossing from San Francisco to Tokyo, each without knowing the other's tragic secret. Little do they know, they are each journeying toward their doomed fate while cheerfully masquerading under ballroom lights, breezy late-night dinners, cocktail conversations, and a whirlwind shore excursion in Hawaii. Along the way, they encounter a cast of characters who help bring them together and who seek to drive them apart. Communicating their innermost thoughts and desires through letters slipped under each other's cabin door, their bond becomes deeper than anything that they have ever known. The clock is ticking… they have weeks to find happiness in each other's arms.
Targeted Age Group: Adult
Written by: Danielle Van Alst
Buy the ebook:
Buy the Book On Amazon

Buy the Print Book:
Buy the Book On Amazon
Author Bio:
Danielle grew up with a passion for all things literary. She first put pen to paper writing articles for a newspaper she designed and created during elementary school. Danielle's creative channels evolved into writing poetry, short stories, essays, and children's books. When not writing her own material Danielle loves reading everything and anything she can get her hands on especially mysteries, suspense, and historical fiction.
Some of Danielle's other talents include finding new and creative ways to use sarcasm, spilling/dropping things, being supremely weird without even trying, graphic design, and photography.
Danielle attended California State University Northridge where she majored in Psychology and minored in Child Development. She continued her educational pursuit and attended Phillips Graduate University where she earned a Master's Degree in Psychology with a dual emphasis in Marriage and Family Therapy and Professional Clinical Counseling. Months after graduating with her degree, and growing more miserable every day that brought her closer toward a career she truly didn't want, she finally realized writing was the only career that would make her happy and nourish her soul.
Danielle is a proud member of the Society of Children's Book Writers and Illustrators and The Alliance for Independent Authors. Danielle is now gleefully concentrating full time on bringing to life her stories and sharing them with the world. Danielle currently resides in Los Angeles, California.
Follow the author on social media:
Learn more about the writer. Visit the Author's Website
Twitter
Instagram
This site contains affiliate links to products. We may receive a commission for purchases made through these links.