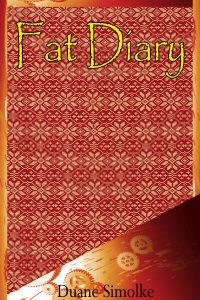 About Fat Diary:
Permafree!
In this free comedy eBook, a West Texas librarian makes fun of herself and the other people in her town, while writing about her reasons for wanting to lose weight.
Pamela Mae Willard must learn to love herself. Still, she can't resist laughing about her problems, and about the adventures of the colorful characters in Acorn, Texas.
This irreverent, politically incorrect tale reveals a woman finding joy in life, no matter what happens to her and no matter who mistreats her.
This short story also appears in The Acorn Gathering. Some of its characters also appear in The Acorn Stories.
Buy the ebook:
Buy the Book On Barnes & Noble/Nook
Buy the Book On Smashwords
Buy the Book On iBooks/iTunes
Buy the Book On Kobo

Author Bio:
Duane Simolke wrote several books, including The Acorn Stories, Degranon, Holding Me Together, Sons of Taldra, and New Readings of Winesburg, Ohio. He edited and co-wrote The Acorn Gathering: Writers Uniting Against Cancer; that book is both a stand-alone spin-off from The Acorn Stories and a cancer fundraiser.
Three of his books received StoneWall Society Pride in the Arts Awards, and one received an AllBooks Reviewers Choice Award. His writing appeared in nightFire, Mesquite, Caprock Sun, Midwest Poetry Review, International Journal on World Peace, and many other publications.
He lives in Lubbock, Texas.
Follow the author on social media:
Learn more about the writer. Visit the Author's Website
Twitter
This site contains affiliate links to products. We may receive a commission for purchases made through these links.