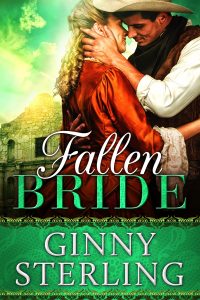 About Fallen Bride:
Independence… but at a price.
There was nothing remarkable or wonderful about being an orphan in the large city of London for Maggie Davies. She attempts to climb the social ranks by masquerading as a cultured lady one evening, only to fall from grace due to false promises whispered to her. Running in shame from everything she's known- she finds herself stowed away onboard a ship, traveling halfway around the world.
Anthony Mejia is a field doctor on his way to deliver supplies to Fort Defiance near San Antonio de Bexar, when he spies a beautiful young woman left for dead. Rescuing her, doesn't involve just healing the injuries she received, it also means healing her soul and teaching her to trust again.
Can Maggie discover her own self-worth or find it in her heart to believe in the kindness of others? Can Anthony protect the young woman he's aided and keep his promise to her, when the world around them is falling apart as the Texas Revolution begins?
Buy the ebook:
Buy the Book On Amazon

Author Bio:
Ginny Sterling is an avid romance writer. She enjoys telling tales that tug at the heart. She enjoys reading and creating stories that leave the reader smiling, laughing or crying. She mostly writes Western Romances Books – including two new series: Brokken Road Romances and The Lawkeepers. She also writes Contemporary romance, as well as the Timeless Brides Series (Time travel romance) under the pen name, Gina Cole.
Having lived in several different parts of the United States, she and her family have settled in Kentucky. She spends all of her free time writing, quilting, or shopping for coffee mugs to add to her collection.
Follow the author on social media:
Learn more about the writer. Visit the Author's Website
Facebook Fan Page
Twitter
This site contains affiliate links to products. We may receive a commission for purchases made through these links.