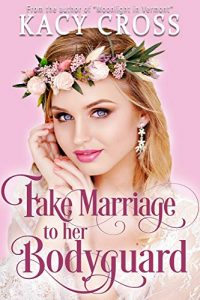 "About Fake Marriage to her Bodyguard:
She's his best friend's sister. Off-limits for so many reasons. So why did he agree to a fake engagement that will make it impossible to keep his feelings for her a secret?
Shiloh Anderson is done with men who can't spell "commitment." She'd rather focus on opening her own business instead of wading back into the dating pool in hopes of meeting a unicorn of a man who won't run the other way the moment things get serious.
But that was before someone starts stalking her.
Her brother plunks down a solution in the form of a fake engagement to his best friend, the one man he trusts to keep her safe. Suddenly she has a pretend fiancé who's treating her like his cherished bride. It's all an act. Right? Except someone needs to explain to her lonely, commitment-starved heart that none of this is real.
Targeted Age Group: 18+
Written by: Kacy Cross
Buy the ebook:
Buy the Book On Amazon
Author Bio:
I write romance novels starring swoon-worthy heroes that you can share with your daughter, the ladies at church and your grandmother without fear because my books never contain bad language, violence or adult content. I live in Texas where I've seen bobcats and beavers near my house, but sadly not one cowboy. I'm raising two mini-ninjas alongside the love of my life who cooks while I write, which is my definition of a true hero.
Come for the romance, stay for the happily ever after. My books will make you laugh, cry and swoon–cross my heart.
Follow the author on social media:
Learn more about the writer. Visit the Author's Website
Facebook Fan Page
This site contains affiliate links to products. We may receive a commission for purchases made through these links.