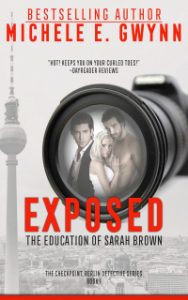 "About Exposed: The Education of Sarah Brown:
Her dream vacation became a nightmare fast!
In Barcelona, a womanizing photographer unleashes the full force of his charm on the small-town Texas librarian, Sarah Brown, a heady cocktail that threatens to steal her heart, a prize he admits he doesn't want. Still, she can't resist him, and finds herself experiencing the heights of ecstasy and lows of heartbreak as her lover disappears without a word. In Berlin, a handsome Dutch Lothario seeks to seduce her, but his sordid past catches up, ensnaring Sarah and her new friends in a twisted family feud. When one of them goes missing, dark secrets are revealed, sparking an international manhunt. Will they expose the predator before it's too late?
Welcome to The Checkpoint, Berlin Detective Series; your passport into a world of dark passions, international crime, and ever-present danger.
Targeted Age Group: 18+
Written by: Michele E. Gwynn
Buy the ebook:
Buy the Book On Amazon
Buy the Book On Barnes & Noble/Nook
Buy the Book On Apple Books
Buy the Book On Kobo
Buy the Print Book:
Buy the Book On Amazon
Buy the Book On Barnes & Noble/Nook
Buy the Book On Water Stones
Author Bio:
Michele E. Gwynn is a former journalist and online content contributor from Schertz, Texas, a small town on the northeast side of San Antonio. Having written for local newspapers and community magazines, she branched out into writing fiction in 2011. Since then, she has penned three series and several stand alones in the genres of crime thrillers, contemporary and paranormal romance, supernatural mystery, and science fiction/horror. Her efforts earned her ascension to the bestseller's list on Amazon US, October 2016 and Amazon UK, March and April 2017. As a journalist, Gwynn split her focus between animal rights activism, exposing abusers and helping to end those abuse practices by shining a light, and community news. In between, she fell into celebrity interviews quite by accident leading to more human-interest pieces and entertainment articles. An avid news junkie, she is still active today in advocating for human and animal rights through media utilizing her voice to help others. Her passion for justice and equality is evident in stories which always seek to convey a message of hope.
Follow the author on social media:
Learn more about the writer. Visit the Author's Website
Facebook Fan Page
Twitter
Instagram
This site contains affiliate links to products. We may receive a commission for purchases made through these links.