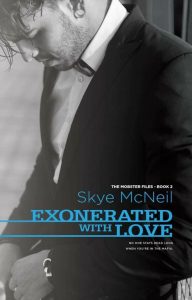 About Exonerated with Love:
Can second chances really exist for a bad boy mobster and the only woman to ever steal his heart?
There's a hit out on Cameron Shearer's life, his mafia ties dragging him down the path of darkness once more. After a harrowing meeting, he discovers no one ever stays dead when you're in the mafia. Determined not to lose the only woman he's loved, Cameron turns to the Del Rossi mob for one last favor. Unfortunately for him, the ending may not be as happy as he once hoped.
Joci Dorous has it all. She's happy, engaged, and just started her own law firm with her best friend. Everything appears perfect, until she discovers a suspicious trail of money in her business accounts and her once dutiful fiancé suddenly turns as shady as his mob boss. When strangers clash amid mobs, Joci is left to decipher who her heart truly belongs to.
Buy the ebook:
Buy the Book On Amazon
Buy the Book On iBooks/iTunes

Author Bio:
Skye McNeil began writing at the age of seventeen and has been lost in a love affair ever since. During the day, she moonlights as a paralegal at a law firm favoring criminal law.
Skye enjoys writing romantic suspense and contemporary romance that leaves readers craving more. Her contemporary and historical novels range from sweet and sassy to steamy and sultry.
Her constant writing companions are two cats and two dogs. When she's not writing, Skye enjoys spending time with family, photography, volleyball, traveling, and curling up with a cup of coffee and reading.
The first book in the Mobster Files series, Appointed by Fate, was voted as the Favorite Law Romance Book for 2017.
Follow the author on social media:
Learn more about the writer. Visit the Author's Website
Facebook Fan Page
Twitter
Instagram