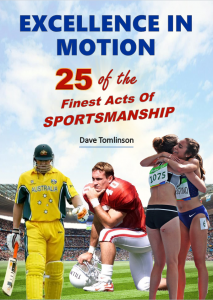 "About Excellence in Motion – 25 of the Finest Acts of Sportsmanship:
In a sporting contest, the desperation to win can often prevail over the core values of respect, civility and fair play. It's for this reason, genuine gestures of sportsmanship are so greatly acclaimed and deeply admired. When an athlete is willing to forgo what they've been striving for and act with genuine magnanimity, it creates a truly heart-warming and memorable moment. It truly is excellence in motion. Welcome to a journey through some of the finest acts of sportsmanship ever displayed. While the scores and even entire results might have slipped into obscurity, these are the wonderful moments that sport will never forget.
Targeted Age Group: 18-80
Written by: Dave Tomlinson
Buy the ebook:
Buy the Book On Amazon

Author Bio:
My name is Dave Tomlinson. I'm from New Zealand and now living in Brisbane, Australia. My life passions are travel, outdoor adventure, sport and writing.
I have travelled through over 50 countries and completed several long distance hikes including the epic Bibbulmun Track in Western Australia and Camino de Santiago in Spain. After writing the budget travel guide 'Travel Unravelled' I then documented my travel stories in 'Around the World in 80 Tales'. I blog about my travel and assist other travellers on my Step Ahead Travel website. It's my dream to eventually travel 100 countries and go to every continent on the planet.
My first sports book 'Days of Miracle and Wonder' describes 25 of the most incredible sporting victories brought about by amazing comebacks and painful chokes. This was followed by 'Unlevel Playing Fields' which tells the dramatic stories behind 25 of the greatest sporting controversies. The latest publication in this fascinating series 'Excellence in Motion' relates the courage, respect and sacrifice displayed in 25 of the finest acts of sportsmanship.
This site contains affiliate links to products. We may receive a commission for purchases made through these links.