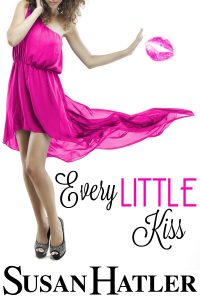 "About Every Little Kiss:
When Wendy Watts left Blue Moon Bay, she vowed never to return to the small coastal town where her parents had abandoned her and her brother. Now she's a successful Realtor, and a workaholic who stays away from complicated emotions—until her grandmother dies, leaving Wendy the Inn at Blue Moon Bay and mandating that Wendy sell the inn, and put it on the market herself "in person."
As soon as Wendy arrives in Blue Moon Bay, bad memories, the inn's poor condition, and her brother's pleas to save the inn overwhelm her. Then she meets a sexy laid-back stranger on the beach, and Wendy does something she never does . . . she opens up and confides her problems to him. Since Max Huntington's only in town for one night, Wendy spontaneously kisses him, hoping to be distracted from her troubles for just one evening.
But when Wendy begins the painstaking process of fixing up the inn in order to sell it, Max tells her he's staying on longer. He's enchanted by the charming inn and even more with the kisses they shared on the beach. He wants to help her with the repairs, and she reluctantly accepts his offer.
Although she's determined to remain detached from the allure of her inn, Blue Moon Bay and Max, every repair, every stroll on the beach, and every moment spent with Max, draws her in and reminds her of the local legend she'd believed as a child: that being kissed by the bay under a blue moon will lead to love that lasts forever.
Targeted Age Group: General adult
Written by: Susan Hatler
Buy the ebook:
Buy the Book On Amazon

Author Bio:
SUSAN HATLER is a New York Times and USA TODAY bestselling author, who writes humorous and emotional contemporary romance and young adult novels. Many of Susan's books have been translated into German, Spanish, French, and Italian. A natural optimist, she believes life is amazing, people are fascinating, and imagination is endless. She loves spending time with her characters and hopes you do, too.
Follow the author on social media:
Learn more about the writer. Visit the Author's Website
Facebook Fan Page
Twitter
This site contains affiliate links to products. We may receive a commission for purchases made through these links.