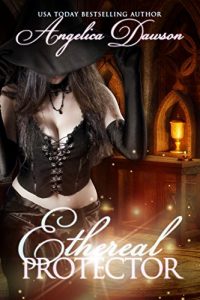 "About Ethereal Protector by Angelica Dawson:
Summer Parker has moved to Salem, into her great-grandmother's house. Once there, she is plagued by the sensation of someone watching her. Added to that, she is having strange dreams about her ancestor, Mary Parker, who was one of Salem's witches. Her human roommates remove most of the eeriness of her predicament, but the intangible roomie is making himself at home too. After a close call, the identity of her resident ghost is revealed. But if Geoffrey is the ghost, does that make her Mary Parker? One thing is certain, Geoffrey is as determined to protect her.
Targeted Age Group: new adults
Written by: Angelica Dawson
Buy the ebook:
Buy the Book On Amazon
Buy the Book On Barnes & Noble/Nook
Buy the Book On Apple Books
Buy the Book On Kobo
Author Bio:
Angelica Dawson, USA Today best selling Naughty Nights Press author, has been writing for several years and having sex a lot longer than that. Angelica is a wife, mother and environmental consultant. Her love of plants and the outdoors is not diminished by the bloodsucking hoards — mosquitoes and black flies, not vampires.
Follow the author on social media:
Learn more about the writer. Visit the Author's Website
Facebook Fan Page
Twitter