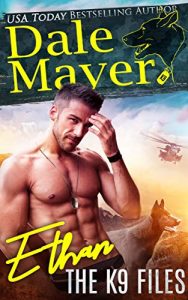 "About Ethan:
When one door closes … second chances open another …
Ethan was lost after a major accident abruptly shifted him from a military life to a civilian one, from working with dogs to odd jobs … In that time, he'd spent months healing from his physical injuries. When he connects with Badger and the rest of his Titanium Corp. group of former SEALs, Badger offers Ethan an opportunity he can't refuse. A chance to do the work he used to do … with a twist.
Cinnamon works from home as a project manager plus is heavily involved in global dog rescues—dogs of all kinds. When Ethan walks into the next door's vet's office with an injured shepherd in his arms, she sees another lost soul—just like the canine ones she helps.
Ethan knows he's about to take a dangerous step, but he's on the job, and no one—on the job or not—hurts animals while he's around. This poor shepherd has taken enough abuse, and Ethan fears she is only the tip of a nightmare he's determined to uncover. But he knows she's going to lead him in the right direction.
He has his sights set on saving one dog in particular, Sentry: K9 File 01.
Targeted Age Group: 18+
Written by: Dale Mayer
Buy the ebook:
Buy the Book On Amazon
Buy the Book On Barnes & Noble/Nook
Buy the Book On Apple Books
Buy the Book On Kobo
Author Bio:
Dale Mayer is a prolific multi-published writer. She's best known for her Psychic Vision Series. Besides her romantic suspense/thrillers, Dale also writes paranormal romance and crossover young adult books in different genres.
To go with her fiction, she writes nonfiction in many different fields with books available on resume writing, companion gardening and the US mortgage system.
She has recently published her Career Essentials Series.
All her books are available in print and digital format.
And then there's her poetry…
My Path
As I walk forward on my path to the future,
I choose laughter, love, and light as my sutures,
stitching together my lifetime of choices,
as the essential fabric of my being rejoices
in the love, friendships, and faith that follow
the steps I take as I flow into my tomorrow.
Follow the author on social media:
Learn more about the writer. Visit the Author's Website
Facebook Fan Page
Twitter
This site contains affiliate links to products. We may receive a commission for purchases made through these links.