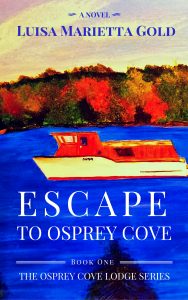 About Escape to Osprey Cove:
Doug has grown up poor, envying what others have. When he meets wealthy Catherine, he thinks she is his ticket to all that he desires. He marries her for her wealth only to find that he covets one more thing — independence. Here is where the mystery begins. He finds something in the secret compartment of his new Corvette that will grant him this independence and will change his life and Catherine's forever. Catherine finds escape at The Osprey Cove Lodge and finds an opportunity to rebuild her life. Everyone needs an Osprey Cove Lodge in their life. Follow the suspense, mystery, and romance of Book 1 of The Osprey Cove Lodge Series.
Buy the ebook:
Buy the Book On Amazon

Author Bio:
Luisa Marietta Gold was born in Pennsylvania where she spent a large part of her adult life. She moved to North Carolina after the birth of her only daughter. She published her debut novel, Escape to Osprey Cove, which is Book 1 of The Osprey Cove Lodge series in September 2016. The Osprey Cove Series was born from Luisa's love of the Rideau Lake region of Canada, the outdoors, and lake life. She spent many years enjoying the Rideau region while staying in lodges reminiscent of the lodge in her first novel. She currently resides on eleven acres in her North Carolina home near an idyllic lake with her husband and several mixed labs. She spends as much time as possible enjoying the beauty of the lake. Luisa also does acrylic painting. The cover of her debut book which features The Lady Droxell on a Canadian lake was painted by her. It was very satisfying to Luisa to know that she created the entire project. There is a tea room not far from her home where one selects a hat to wear while dining as did Libby and Rosalind in the book. And sometimes they are silly. Luisa's bio picture was taken there.
This site contains affiliate links to products. We may receive a commission for purchases made through these links.