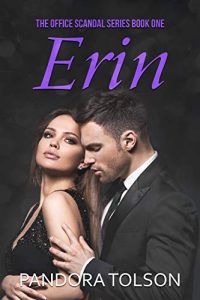 "About Erin:
Onyx prides itself on its award winning customer service, however some of the staff prefer to pride themselves on their outstanding blow job skills.
Join Erin, Tessa, Jordon, Ayla and Meredith on their Office Scandals….
Erin Rushford is the quiet one of the team at Onyx, the one you don't expect to get up to mischief. Of course looks can be deceiving. After a flirty exchange an affair begins with coworker Cody.
Will mixing business with pleasure result in getting caught or Cody's wife finding out?
Targeted Age Group: Adult
Written by: Pandora Tolson
Buy the ebook:
Buy the Book On Amazon

Author Bio:
Pandora Tolson is an Australian born and raised, Wellington, New Zealand based author, who spent high school writing fanfic and to quote Tina Belcher 'Erotic Friend Fiction' for her friends and sister.
Not much has changed since then really.
Pandora specialises in new adult, contemporary, romance, however she isn't afraid to try new things with her writing style, taking on a YA style for the story So They Say which is part of the collection of stories in Shattering The Silence.
Pandora's debut novel Office Scandal: Erin will be available shortly, is the first in the Office Scandal Series.
When not writing Pandora enjoys collecting bookmarks, as well as plush toy Wombats, rocking out to a mixture of music including The Darkness, The Killers, The Rasmus, and David Bowie, playing Ingress. As well as fussing over her charming son Geekling, annoying her husband Mr Geek, Pandora also loves chatting to her friends and family, as well as keeping up to date with her readers and fans on Facebook, Snapchat and Instagram.
Follow the author on social media:
Learn more about the writer. Visit the Author's Website
This site contains affiliate links to products. We may receive a commission for purchases made through these links.