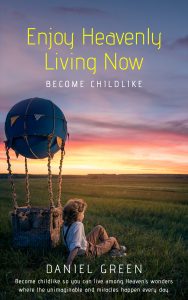 "About Enjoy Heavenly Living Now: Become Childlike:
Discover how to have a childlike faith so you can live among Heaven's wonders where the unimaginable and miracles happen every day. You can experience this kind of Heavenly living by learning what these unique childlike characteristics are. Then as you become more childlike in your faith, the miraculous things of Heaven will begin to occupy your home and everyone around you.
Some benefits of becoming childlike:
• See more healing, miracles, and supernatural wonders
• Accomplish the dreams and passions of your heart.
• Feel God's unconditional love beyond all measure.
Receive these Heavenly benefits and many more by learning how to become more childlike in your faith.
Jesus once said that in order to participate in Heaven's wonders or the Kingdom of Heaven, you must become more like little children (Matt. 18:3). You will discover fifteen childlike characteristics that will transform your life so that you can enjoy Heavenly living now.
Targeted Age Group: 18 – 40
Written by: Daniel Green
Buy the ebook:
Buy the Book On Amazon

Buy the Print Book:
Buy the Book On Amazon
Author Bio:
Hi, my name is Daniel Green. I am a writer, speaker, blogger, and the founder of Anakainoo International. My passion is to help you and those who are frustrated with what religion has to offer and show you how to have face-to-face encounters with God every day to experience an abundant life where signs, wonders, and miracles become an everyday normal experience for you.
It is my desire to help pursuers of God discover how to have a real tangible relationship with God and follow Him everywhere, just like Jesus did. Then you can experience all the wonders and miracles from Heaven following you and fulfill all the desires of your heart.
I have written other books including: Supernatural Wave of God's Presence, Does God Want You to Be Rich?, and Tearing Down Weak Foundations that Hinder You. I have a Master's of Ministry Degree and a Business Degree with over thirty-five years' experience in business and ministry which included owning two very successful accounting businesses.
Follow the author on social media:
Learn more about the writer. Visit the Author's Website
Facebook Fan Page
Twitter
Instagram
This site contains affiliate links to products. We may receive a commission for purchases made through these links.