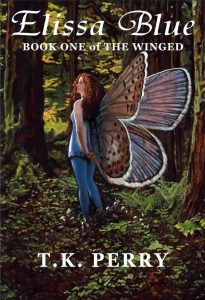 "About Elissa Blue: Book One of The Winged:
Though she worried it might never happen, Elissa Blue finally has her wings. Now she must migrate to the Mating Mountain, find a husband, and get back down the impassable cliffs before she loses her ability to fly forever. If she doesn't succeed, she'll be stranded as a servant in the Old Castle for the rest of her life. And if she doesn't choose her man wisely, she will be just as miserable.
Targeted Age Group: 13-18
Written by: Tracy Perry
Buy the ebook:
Buy the Book On Amazon
Buy the Book On Barnes & Noble/Nook
Buy the Book On Kobo
Buy the Print Book:
Buy the Book On Amazon
Buy the Book On Barnes & Noble/Nook
Author Bio:
T.K. Perry lives with her husband and daughter in a lovely Oregon forest filled with wildlife (there is probably a house, too, but that's less picturesque). When she isn't writing or watching said wildlife, she enjoys making jewelry, pretending to be a photographer, and trying to save the world (a frustrating task since she lacks both superpowers and a costume). T.K. has a B.A. in International Relations from Brigham Young University, an M.A. in International Politics from the University of Denver Graduate School of International Studies, and a J.D. from the University of Denver College of Law. She is currently working on book three in The Winged series.
Follow the author on social media:
Learn more about the writer. Visit the Author's Website
Facebook Fan Page
Twitter
Instagram
This site contains affiliate links to products. We may receive a commission for purchases made through these links.