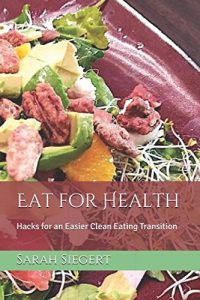 About Eat for Health:
Change your health through food! Are you suffering from any health problems? The answer is what is on your plate! Commercialized food companies are putting any and everything in our food to increase their profits – and the cost is OUR HEALTH! Learn how to take back your control of your body and health with this quick guide to eating clean.
Buy the ebook:
Buy the Book On Amazon

Author Bio:
I came across my clean eating journey trying to clear up my adult cystic acne. After trying everything I could find, I came across the Paleo Diet. I don't follow it completely anymore, but it gave me the basis for eating clean. 3 months later, my face was completely clear! And all my other health issues unexpectedly went away. I looked and felt younger than ever before. I wrote a guide to clean eating so others can share in my delight!
Follow the author on social media:
Learn more about the writer. Visit the Author's Website
Facebook Fan Page
This site contains affiliate links to products. We may receive a commission for purchases made through these links.