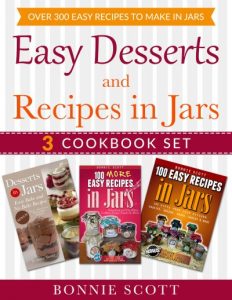 About Easy Desserts and Recipes in Jars – 3 Cookbook Set:
The newest edition to the In Jars series! The most innovative way to give gifts from your kitchen.
Easy Desserts and Recipes in Jars – 3 Cookbook Set is a collection of easy to make, delicious jar recipes that will make a big dent in your holiday gift giving list. The recipes use simple ingredients to create a homemade meal or snack that's as easy to use as a store-bought mix. You do the hard part, while the recipient sits back and enjoys.
This three cookbook set of Bonnie Scott's In Jars books includes the titles:
100 Easy Recipes in Jars
100 More Easy Recipes in Jars
Desserts in Jars: Easy Bake and No Bake Recipes
Buy the ebook:
Buy the Book On Amazon
Buy the Book On Barnes & Noble/Nook

Author Bio:
Bonnie Scott is the author of dozens of recipe books, including the Bestselling "In Jars" series, and "Cookie Indulgence". She is an independent web designer and freelance writer for numerous websites. Her latest publications are "Chocolate Bliss: 150 Easy Chocolate Recipes" and "A Taste of Italy: Authentic Italian Recipes". She has degrees in Journalism and Computer Information Systems. Bonnie lives with her husband in Amarillo, TX.
Follow the author on social media:
Learn more about the writer. Visit the Author's Website
This site contains affiliate links to products. We may receive a commission for purchases made through these links.