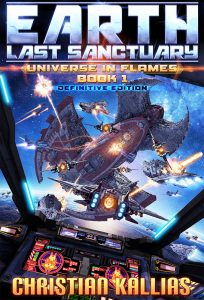 About Earth – Last Sanctuary (Definitive Edition) (Universe in Flames Book 1):
Earth. Our Last Sanctuary. The Last Beacon of Hope Against the Rising Darkness.
The Definitive Edition returns to full price ($3.99) soon, grab it at its launch sale price while you can.
The Obsidian Empire has shattered the Star Alliance. Lieutenant Chase Athanatos manages to escape their wrath, piloting his fighter to lead a band of survivors to the edge of the galaxy…to a little planet called Earth.
But Earth is in trouble. The Empire is hot on their trail, and unless Chase can find a way to stop them, what remains of the Alliance is doomed to extinction.
Unbeknownst to him, something dormant is coursing through Chase's blood. Something ancient.
But does it hold the key to changing their destiny?
For fans of Star Wars, Stargate, BSG & B5.
This Definitive Edition of Earth – Last Sanctuary contains the Bonus Novella: Ryonna's Wrath. This particular story is now exclusive to this book.
Buy the ebook:
Buy the Book On Amazon

Author Bio:
Aided by an abundance of Sci-Fi characters with supernatural powers, Bestselling Sci-Fi author Christian Kallias has a secret. He lives two lives. One in the real world and one inside his own creations, in worlds where he can lay down the foundation of his universes for both his and your enjoyment. Guess which world he prefers?
Christian Kallias is the bestselling author of the award-winning Universe in Flames Space Opera series.
Subscribe to Christian's spam-free email list and get the free & exclusive Universe in Flames book DAMOCLES FALL: http://bookhip.com/DPRBLX
Check Christian's website for news, blog posts and giveaways: http://www.christiankallias.com
Follow the author on social media:
Learn more about the writer. Visit the Author's Website
Facebook Fan Page
Twitter
This site contains affiliate links to products. We may receive a commission for purchases made through these links.