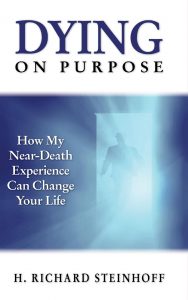 About Dying On Purpose: How My Near-Death Experience Can Change Your Life:
Richard Steinhoff had it all—a beautiful home, a loving wife, a successful career in real estate, and a best-selling book. Then a diseased gall bladder landed him in the hospital, and a series of complications nearly killed him. While he was there, he had an out-of-body, Near-Death Experience and encountered a Heavenly being who told him to return to his body because he had not yet completed his Life's Purpose.
He immediately set out on a journey to discover his purpose. When he found it and stopped living Off-Purpose, he knew he didn't want to see another soul living Off-Purpose. That's when he decided to share his story in this book. His purpose was not just to tell his story; it was to help people change their lives and live a happy, fulfilled life.
Everyone on this planet was put here for a purpose.
If you don't know yours, you need to read this book.
Buy the ebook:
Buy the Book On Amazon

Author Bio:
H. Richard Steinhoff is a nationally known best-selling author, speaker, and community leader, dedicated to improving people's lives.
His community involvement includes serving as vice-president and director of the Chamber of Commerce; president of Center 500 (a major fundraising organization for the Segerstrom Center for the Arts); ex-officio director of the Segerstrom Center for the Arts; director of the Laguna Niguel Community Council; president of The Club at Rancho Niguel; as well as being a member of the Chancellor's Club of the University of California, the Irvine Exchange Club, and the California State University Alumni Association;
He was a featured guest on talk radio shows from coast-to-coast; along with appearing on many television news programs, including Fox News in Los Angeles.
He received the "Man of the Year" Award from the Chamber of Commerce, the President's Award from the Muscular Dystrophy Association, and was listed in "Who's Who in California" as well as "Who's Who in the West." He recently received a Certificate of Recognition for Community Leadership" from the California State Legislature.
Richard is a member of Mensa and a veteran of the U.S. Marine Corps.
Follow the author on social media:
Learn more about the writer. Visit the Author's Website
Facebook Fan Page
Twitter