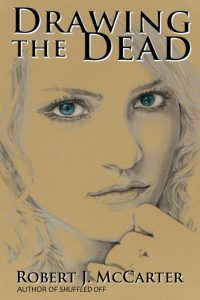 "About Drawing the Dead:
Life and death are not that far apart…
What happens when we die? Viki Dobos knows. Her job is to help people talk to their dearly departed. She draws the deceased, and they come to life on the page… briefly. When a rich Russian man hires her and whisks her away to Hawaii, everything changes. The rich man wants her to do the forbidden, and a handsome man she meets on the beach needs her more than he knows. Viki will have to confront her past, face her fears, and risk everything to help them.
From the author of A Ghost's Memoir series (Shuffled Off, To Be A Fool, and Of Things Not Seen) comes an unforgettable story of life, death, and the strange places in between.
Targeted Age Group: 18-65
Written by: Robert J. McCarter
Buy the ebook:
Buy the Book On Amazon

Buy the Print Book:
Buy the Book On Amazon
Author Bio:
Robert J. McCarter is the author of six novels, three novellas, and dozens of short stories. He is a finalist for the Writers of the Future contest and his stories have appeared in The Saturday Evening Post, Adomeda Spaceways Inflight Magazine, Everyday Fiction, and numerous anthologies.
He has written a series of first person ghost novels (starting with Shuffled Off: A Ghost's Memoir) and a superhero / love story series (Neutrinoman and Lightningirl: A Love Story), as well as two short story collections.
Of his latest novel, Seeing Forever, Kirkus Reviews says, "Sci-fi as it should be: engaging, moving, and grand in scope."
He lives in the mountains of Arizona with his amazing wife and his ridiculously adorable dog.
Follow the author on social media:
Learn more about the writer. Visit the Author's Website
Facebook Fan Page
Twitter
This site contains affiliate links to products. We may receive a commission for purchases made through these links.