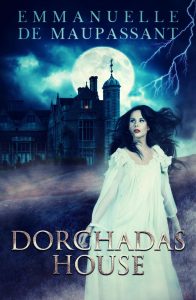 About Dorchadas House:
A dilapidated manor on a remote Scottish isle.
An old maze, concealing something even older.
Strange dreams and awakening desires.
"Even on that first night, I dreamt. A presence, in the darkness."
Yearning for new surrounds, Iris Muir accepts a position at historic Dorchadas House, on the remote Scottish island of Eirig. Attracted to the wild landscape, Iris hopes to forget the burdens of her past, but the house has its own secrets. There are strange cries in the night, and is the stoic housekeeper Mrs McInnes all she seems?
Iris begins to have disturbing dreams about the maze, planted centuries ago in the manor grounds, and feels the brooding presence of Neas and Eachinn, the two brutish farmhands.
As autumn wanes and Samhain Eve approaches, the island folk prepare to honour the dead and the Goddess Nicneven, as they have done for generations past. Has something more than chance drawn Iris to Eirig?
'Dorchadas House' is a 1940s Gothic mystery, combining elements of folk-horror with adult themes.
Buy the ebook:
Buy the Book On Amazon

Author Bio:
Emmanuelle writes the wry, the Gothic, the erotic and the bittersweet, exploring themes of madness and imprisonment, and our desire for freedom.
Follow the author on social media:
Learn more about the writer. Visit the Author's Website
Facebook Fan Page
Twitter