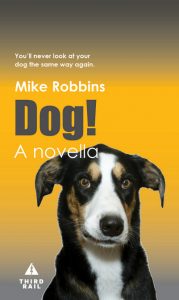 About Dog!:
Bazza is an easy-going middle-aged college lecturer with a taste for weed, porn, beer and redheads. When he adopts a rescue dog, he sees nothing odd about the animal. Then a Himalayan monk comes to visit, and senses something strange. He is right…
Dog is a powerful story of love and loss, sin, redemption and dog mess. You'll never see your pet the same way again.
Buy the ebook:
Buy the Book On Amazon
Buy the Book On Barnes & Noble/Nook
Buy the Book On iBooks/iTunes
Buy the Book On Kobo

Author Bio:
Mike Robbins is the author of two books of travel memoirs, a novel, and a scientific book on climate change. He has been a journalist, traveler, development worker and climate-change researcher. He now works as an editor.
Born in England in 1957, he graduated in 1979 and worked in rock-music publishing, financial journalism, as a traffic broadcaster and as a reporter on the fishing industry. In 1987 he went to work as a volunteer in Sudan, an experience he described in his book Even the Dead are Coming (2009). He later also worked as a volunteer in Bhutan and went on to live in Aleppo, Brussels and Rome. These travels led eventually to a collection of long travel pieces, The Nine Horizons (2014), and a novel, The Lost Baggage of Silvia Guzmán (2014). He has since published two more books of fiction, including Dog! (2015). Nowadays he has one foot in the US and one in the UK, and loves them both.
Follow the author on social media:
Learn more about the writer. Visit the Author's Website
Facebook Fan Page
Twitter