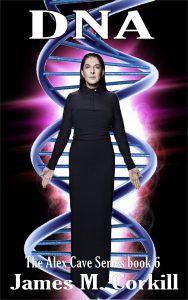 About DNA. The Alex Cave Series book 6:
Social media postings will determine who will survive.
An exciting science fiction techno-thriller from six-time award-winning author, James M. Corkill.
Alex Cave, an Ex-CIA operative now a geophysics consultant for NASA at Area 51, meets an archaeologist named Mya Austin, who tells him about a prophecy found in an ancient cave drawing belonging to the Sioux Nation. He is intrigued, but declines Mya's offer to visit the dig site because of a pressing family issue.
The Sioux prophecy begins to come true when a mysterious woman arrives in an alien craft and enlists the help of geneticist Zane Simon, owner of the Discover New Ancestors Company. She informs him that only a select number of humans will have the correct genetic structure to be saved from a coming apocalypse, and she wants to begin the selection process with the data he has already collected from customers. Those who meet the first requirement must also meet certain criteria gathered from personal information posted on social media sites, and only five hundred will be chosen to survive when the prophecy is fulfilled.
What criteria are needed to survive? Find out by grabbing your copy now!
Buy the ebook:
Buy the Book On Amazon
Buy the Book On Barnes & Noble/Nook
Buy the Book On Smashwords
Buy the Book On iBooks/iTunes
Buy the Book On Kobo

Author Bio:
James M. Corkill is a Veteran, and retired Federal Firefighter from Washington State, USA. He was an electronic technician before eventually becoming a firefighter for 32 years and retiring. He began writing in 1997, and was fortunate to meet the famous horror writer Hugh B. Cave, who became his mentor. His six science fiction/techno-thriller novels have won six awards, including one international award.
His stories are based on scientific facts and he does extensive research with industry leaders in the fields of asteroid tracking. He belongs to the B612 program for NEO, Near Earth Object tracking, and ADAM, Asteroid Decision Analysis and Mapping project.
His favorite quote. "When you wake up in the morning, you never know where the day will take you."
He now lives in the Smoky Mountains of western North Carolina. You can learn more about and contact Mister Corkill on his website.
Follow the author on social media:
Learn more about the writer. Visit the Author's Website
Facebook Fan Page
Twitter
Instagram