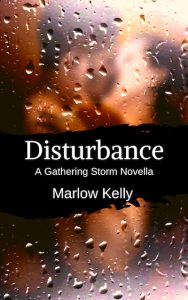 "About Disturbance:
Held captive by violent bank robbers, they must put the betrayals of the past aside and learn to trust each other again.
Sophie Reed is the top criminal defense attorney in Granite City. She champions the wrongly accused and ensures the justice system works for everyone.
Detective Mateo Ramirez can't believe he used to love Sophie. Everything she does is a betrayal of his work as a cop, but when she's near his body reminds him of just how close they used to be.
When they are held hostage in a bank robbery they realize their attraction for each other has never diminished, but can they overcome their conflicting viewpoints and work together.
Targeted Age Group: 18+
Written by: Marlow Kelly
Buy the ebook:
Buy the Book On Amazon
Buy the Print Book:
Buy the Book On Amazon
Author Bio:
After being thrown out of England for refusing to drink tea, Marlow Kelly made her way to Canada where she found love, a home and a pug named Max. She started putting her ideas on paper and enjoys writing suspenseful, fast-paced romance stories that always feature strong women.
Follow the author on social media:
Learn more about the writer. Visit the Author's Website
Facebook Fan Page
Twitter
This site contains affiliate links to products. We may receive a commission for purchases made through these links.