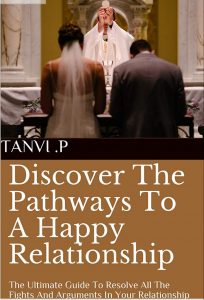 "About Discover The Pathways To A Happy Relationship: The Ultimate Guide To Resolve All The Fights And Arguments In Your Relationship:
A Proven, Ultimate Guide To Resolve All The Fights And Conflicts In Your Relationship To Have That Joyful And Peaceful Relationship Which You Always Wanted!
Dear Friends,
Don't we all lose our peace of mind when we have those fights, arguments and conflicts with our partner, our loved one? Even though we do not want to argue and fight with the person we love and care for so much, yet we find ourselves in the same situation again and again. This is because often we fail to understand the inherent reasons that are causing troubles in our relationships. That is why I want to share with you all, through this book, the things that helped me transform my relationship and I'm sure that those will help you too.
My name is Tanvi and I'm presenting here the proven and the ultimate system that will help you all to resolve all the fights and arguments in your relationship with your partner very soon. I promise that this book will definitely help you get the peace of mind and joy that you've always wanted in your relationship!
This confidence in my statement is because not only I've personally transformed my relationship with my partner from a unstable relationship to a happy, lively, conflict-free and peaceful one but I have also seen the positive transformation in the relationships of my friends and family with the help of the information provided in this book.
Targeted Age Group: 15+
Written by: Tanvi .P
Buy the ebook:
Buy the Book On Amazon
Author Bio:
My name is Tanvi and I'm an avid reader. I enjoy writing about my personal experiences and the things that have helped me in my life deal with the tough times and situations.
This site contains affiliate links to products. We may receive a commission for purchases made through these links.