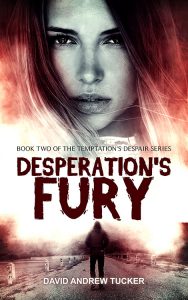 "About Desperation's Fury:
"Forgiveness. Redemption. They both seem so far away. I have all the money a man could ever want… but a future with Sarah seems impossible now…"
Mark Taylor made his choice. His marriage is in shambles after a drunken one-night stand and a near-fatal accident. He's leaving Seattle and heading to Montana, abandoning his luxurious life. The promise of a fresh start and a new love interest await on his father's ranch in the rugged mountains on the east side of the Rockies. Just as he's settling into his new world, a deadly stranger returns from Sarah's haunting past. With his estranged wife's life hanging in the balance, will Mark be able to overcome fate's wicked intentions and save those whom he loves the most? Can he survive the most significant challenge he's ever faced?
Targeted Age Group: Adult
Written by: David Tucker
Buy the ebook:
Buy the Book On Amazon
Buy the Print Book:
Buy the Book On Amazon
Author Bio:
David Andrew Tucker spent his youth in Phoenix, Arizona, combing every corner of the state's wilderness on horseback and on foot in search of adventure. In time, the city grew too large and David traded life in the arid southwest for a life in the mountains. When he wasn't out exploring, he spent his time reading and writing. After working for years in the corporate world, as well as experiencing several entrepreneurial ventures, he decided to walk away from the normal everyday grind in order to focus on his love for writing fiction. With a vivid imagination, he enjoys bringing his characters to life in relatable circumstances. David now resides in Kalispell, Montana with his wife, three children, three spoiled dogs, and their cat. He and his family continue to pursue their love of the outdoors and are now exploring the wilds of Montana.
Follow the author on social media:
Learn more about the writer. Visit the Author's Website
Facebook Fan Page
Twitter
Instagram
This site contains affiliate links to products. We may receive a commission for purchases made through these links.