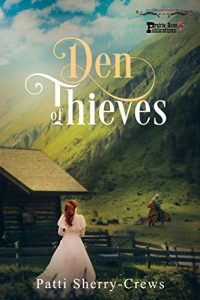 "About Den of Thieves:
When his identical twin brother is arrested, the Pinkerton Detective Agency enlists Wynne Palmatier to go undercover and impersonate his outlaw brother, Ennis. His mission is to infiltrate his brother's gang. Ennis tells Wynne everything he needs to know. Except for one thing: there are two women with the outlaws, and one of them is his wife.
Lucy House is still paying for the day she strayed away from decency. Now the handsome outlaw she ran away with has lost his appeal and she longs to get away from this life. As the danger mounts, can Wynne and Lucy escape this den of thieves?
Targeted Age Group: adult
Written by: Patti Sherry-Crews
Buy the ebook:
Buy the Book On Amazon

Buy the Print Book:
Buy the Book On Amazon
Author Bio:
Award winning author Patti Sherry-Crews lives in Evanston, Illinois with her husband in their newly empty nest. She studied anthropology and archaeology at Grinnell College in Iowa and University of North Wales in Bangor, UK. When growing up, her favorite toys were her plastic cowboys and Indians she took everywhere with her. Now a full time author she stills plays with cowboys and Indians and is able to share them with others. She also writes medieval romance. Sometimes she stays in her own century and writes contemporary romances. Patti would like to say she loves to cook, but in all honesty has to admit that these days she likes pinning recipes more than working in the kitchen.
Follow the author on social media:
Learn more about the writer. Visit the Author's Website
Facebook Fan Page
Twitter
Instagram
This site contains affiliate links to products. We may receive a commission for purchases made through these links.