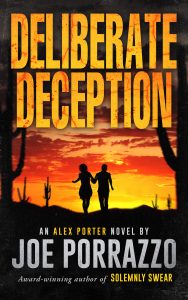 "About Deliberate Deception:
Following the award-winning mystery thriller, SOLEMNLY SWEAR…
Alex Porter is back…and the stakes have got higher. Much higher!
A greedy corporation rigs a multi-million dollar raffle—creating false hopes—now people aren't winning, they're dying! What comes next will shock the world!
DELIBERATE DECEPTION heralds the return of Alex Porter; retired United States Air Force OSI (Office of Special Investigations) Agent turned private investigator, in another heart-pounding Joe Porrazzo suspense thriller.
Seven months after leaving New England, Alex, still grieving the tragic deaths of his wife and daughter, gets a call from his friend Joe Prater. Prater's old army buddy has gone missing from his home in Tucson, and Joe wants Alex to check it out.
HEADLINE NEWS: Tragedy in Tucson
While investigating, Alex gets too close to the truth and becomes a target himself. He finds himself teamed with the very person hired to kill him, as they race against the clock to prevent a mysterious group from striking in Tucson and shocking the world.
Don't miss the nonstop action; the deception is deliberate, and the results are deadly.
Targeted Age Group: Adult
Written by: Joe Porrazzo
Illustrated by: Joe Porrazzo
Buy the ebook:
Buy the Book On Amazon
Buy the Book On Smashwords
Author Bio:
Joe Porrazzo is a retired U.S. Air Force officer and currently works for the Department of Defense. He earned his bachelor's degree from Southern New Hampshire University and a master's degree from Central Michigan University. A native New Englander, Porrazzo now lives in Tucson, Arizona. Visit his website at JoePorrazzo.com
Follow the author on social media:
Learn more about the writer. Visit the Author's Website
Twitter
This site contains affiliate links to products. We may receive a commission for purchases made through these links.