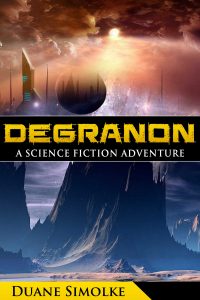 About Degranon: A Science Fiction Adventure:
On the planet Valchondria, no illness exists, gay marriage is legal, and everyone is a person of color. However, a group called "the Maintainers" carefully monitors everyone's speech, actions, and weight; the Maintainers also force so-called "colorsighted" people to hide their ability to see in color.
The brilliant scientist Taldra loves her twin gay sons and thinks of them as the hope for Valchondria's future, but one of them becomes entangled in the cult of Degranon, and the other becomes stranded on the other side of a doorway through time. Can they find their way home and help Taldra save their world?
•"This is an incredible book about the human condition and how one person striving for the good can, in the end, be a source of change." –Rainbow Reviews
•"So for those who want a thought provoking and fun sci-fi read, then I would highly recommend Degranon; so hover on over to the bookstore and check this one out."—Blogger Girls
•"In Degranon, author Duane Simolke establishes his voice in gay genre writing by combining current concerns revolving around queer culture with a world of dimensional doorways, advanced technology, and distant planets." –X-Factor, October 1, 2004 issue
• "It's a very good story." –HomoMojo.Com and I Must Be Dreaming
•"A must read." – Joe Wright, for StoneWall Society
•"A reminder of the danger of fanaticism." –Mark Kendrick, author of Stealing Some Time
•"Duane Simolke's latest offering is a fascinating scifi excursion into a world as unique as his singular vision." –Ronald L. Donaghe, author of Cinátis
•"I recommend DEGRANON for its exciting, well-constructed narrative, its often intriguing characters, and its wealth of ideas both political and philosophical." –J. Clark
•"DEGRANON is sci-fi that warrants the attention of any serious aficionado, gay or straight, fascinated by alien worlds that mirror our own world." –William Maltese, author of Beyond Machu
Buy the ebook:
Buy the Book On Barnes & Noble/Nook

Author Bio:
Writing published in nightFire, Mesquite, Caprock Sun, Midwest Poetry Review, International Journal on World Peace, and many other publications. Author or co-author of the following books. The Acorn Stories. Stein, Gender, Isolation, and Industrialism: New Readings of Winesburg, Ohio. Holding Me Together. Degranon: A Science Fiction Adventure. The Acorn Gathering: Writers Uniting Against Cancer. The Return of Innocence: A Fantasy Adventure.
Winner, Allbooks Reviewers Choice Award and four StoneWall Society Pride in the Arts Awards.
Follow the author on social media:
Learn more about the writer. Visit the Author's Website
Twitter
This site contains affiliate links to products. We may receive a commission for purchases made through these links.