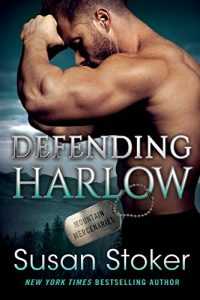 "About Defending Harlow by Susan Stoker:
Danger rises and love is threatened in New York Times bestselling author Susan Stoker's fourth book of the Mountain Mercenaries series.
Lowell "Black" Lockard, former Navy SEAL, has watched his fellow Mountain Mercenaries settle down with the women of their dreams, but he's convinced he doesn't need love. Then he gets a call from Harlow Reese—a chef at a local women's shelter—and begins to reconsider his decision.
After being continually harassed by a local band of punks, Harlow asks Lowell to give the women of the shelter lessons in self-defense. She doesn't expect him to take such a special interest in her safety, but he insists on escorting her to and from work, never taking no for an answer. Not that Harlow minds the personal touch…especially when it's coming from her former teenage crush.
Despite her long history of bad dating luck, seeing Black again makes Harlow rethink her self-imposed celibacy. Easy on the eyes and hard to forget, the man has morphed into an alpha stud. And Harlow may be exactly the type of woman Black is looking for. Making her feel safe isn't only a duty; it's a pleasure. But the threats are escalating. The motives are a mystery. And as the danger burns almost as hot as their passion, there's much more at risk than their hearts.
Targeted Age Group: 18+
Written by: Susan Stoker
Buy the ebook:
Buy the Book On Amazon
Author Bio:
New York Times, USA Today, and Wall Street Journal Bestselling Author, Susan Stoker has a heart as big as the state of Texas where she lives, but this all American girl has also spent the last fourteen years living in Missouri, California, Colorado, and Indiana. She's married to a retired Army man who now gets to follow her around the country.
She debuted her first series in 2014 and quickly followed that up with the SEAL of Protection Series, which solidified her love of writing and creating stories readers can get lost in.
Follow the author on social media:
Learn more about the writer. Visit the Author's Website
Facebook Fan Page
Twitter
This site contains affiliate links to products. We may receive a commission for purchases made through these links.