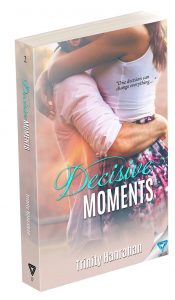 "About Decisive Moments:
High School is over. Aislinn Munroe is ready to face the challenge of college and her new relationship…
Aislinn has overcome her high school insecurities and embraced her relationship with reformed bad boy, Teagan Aldridge. Her life as a college student at the University of Florida is filled with new experiences and people, including the shining football star, Ryan Caldwell. Aislinn isn't interested in Ryan's attention or charm. She only wants to figure out what's next for her and Teagan.
Aislinn wants to take the next step in their relationship, but Teagan isn't ready…
Old insecurities sneak back in as Aislinn worries that their physical relationship has stalled. Teagan convinces Aislinn he just wants to wait for the right time, but his sweet gesture falls short when his ex-girlfriend Lauren shows up. Teagan's past has finally caught up with him, and now they all have to face it.
Every choice has a consequence, and Aislinn must make a decision…
Teagan tries to take responsibility for his past, but Lauren only wants to monopolize his time and push Aislinn out of the picture. Aislinn has to choose. Trust Teagan and stand by her boyfriend, or let Lauren succeed in ripping them apart? College wasn't supposed to be this hard.
Some decisions have far-reaching effects, and this one could cost Aislinn her heart. It's time to make up her mind and face her…
Decisive Moments.
Targeted Age Group: 18-22
Written by: Trinity Hanrahan
Buy the ebook:
Buy the Book On Amazon

Buy the Print Book:
Buy the Book On Amazon
Author Bio:
Trinity lives with her husband and four children in Virginia. She grew up overseas in Turkey and Japan, where her love of reading developed due to a lack of English-speaking television. As her need for written works grew, so did her desire to create worlds for others to enjoy. By the time she was in middle school she had started writing short stories. She endeavors to break the mold where modern stereo-types are concerned and create engaging characters.
When she's not writing or working, Trinity still enjoys settling down to read a book or doing graphic art in her spare time. She's fluent in sarcasm, song lyrics and movie quotes and always has a meme for every occasion. She's thoroughly convinced her children are trying to drive her insane, the cat is plotting global domination and the dog actually understands every word but chooses to ignore her.
…and she wouldn't change any of it.
Follow the author on social media:
Learn more about the writer. Visit the Author's Website
Facebook Fan Page
Twitter
Instagram
This site contains affiliate links to products. We may receive a commission for purchases made through these links.