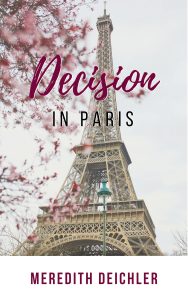 "About Decision in Paris:
Will a new job spell the end of her relationship?
With her closest cousin Aubrye as a roommate and her long-term boyfriend Connor as a fellow traveler, Quinn should be looking forward to a relaxing vacation, their tour guides taking care of all of the details of the journey.
However, a few months before their departure date, Quinn accepted a new position at work, the amazing opportunity requiring a relocation hours away in the fall. Connor's ties to the family real estate business has shaken the couple, the uncertainties of a long-distance relationship raising difficult questions. Ignoring the effects the separation will have on their relationship has only built a wedge of uncertainty between Quinn and Connor. Arriving in France, their careful avoidance of the issue crumbles. Against the backdrop of the Eiffel Tower, the Louvre Museum, and other Parisian sights, Quinn and Connor must decide if their love is worth fighting for or if this trip will be their last time together.
A sweet romance novella!
Targeted Age Group: general
Written by: Meredith Deichler
Buy the ebook:
Buy the Book On Amazon

Author Bio:
Meredith Deichler has been writing since preschool when her stories apparently featured bunny rabbits that climbed trees. While characters and settings have changed over the years, her desire to create with words has not.
Through Hammers and Verse: Revealing Love was her first published novel. The Suitcases and Love romance trilogy will release in the first half of 2019.
Ms. Deichler resides in Ohio where she teaches Spanish. She is also active in a local running club and has participated in several shows at the community theater. Additional passions include photography and travel.
Follow the author on social media:
Learn more about the writer. Visit the Author's Website
Twitter
Instagram
This site contains affiliate links to products. We may receive a commission for purchases made through these links.