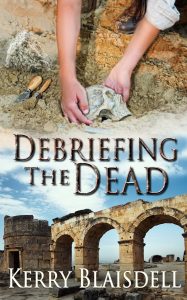 About Debriefing the Dead:
The only thing Hyacinth wants is her life back. Literally. She and her sister were murdered by Demons, leaving her young nephew, Geordi, to his father's family in the brutal Sicilian Mob. Then Archangel Michael offers her a deal: recapture a powerful rock the Demons stole, and she can live long enough to find Geordi a safe home. Refuse, and she'll continue up (or down) to the Afterlife.
So, slightly more alive than dead, she heads for Turkey and the Demons, taking Geordi, her mysterious neighbor Jason, and a sexy dead guy only she can see with her. But the hardest part won't be battling Demons, meeting Satan, or dodging Middle Eastern customs—it will be later, when Geordi is settled, and Michael rips her away again. How can she abandon her nephew? Or can she outwit the Angel of Death himself, and stay with Geordi forever?
Buy the ebook:
Buy the Book On Amazon
Buy the Book On Barnes & Noble/Nook
Buy the Book On iBooks/iTunes
Buy the Book On Kobo

Author Bio:
Kerry was born in British Columbia, Canada, and has since lived all over the West Coast of North America, including California, Oregon, Washington and Alaska—everywhere except Mexico! She's a "computer industry" brat, not a military one, but moving so frequently meant she spent a lot of time reading, and later writing, (hopefully!) great books. She has a degree in Comparative Literature (French and Middle English) from U.C. Berkeley, and a Master's in Teaching English and Mathematics from the University of Portland. She currently lives in the gorgeous Pacific Northwest with her husband, two "kids" in late adolescence/early adulthood, assorted cats and dogs, and more hot pepper plants than anyone could reasonably consume.
Follow the author on social media:
Learn more about the writer. Visit the Author's Website
Facebook Fan Page
Twitter
Instagram