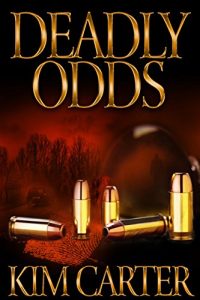 About DEADLY ODDS:
"One bounty hunter and a notorious killer have two worlds colliding in this edge of your seat thriller!"
Georgia bounty hunter Nathaniel Collier finds himself in perilous danger as he hunts down the notorious Mad Dog Consuelos.
As Nathaniel draws near, Consuelos strikes again leaving behind a bloody path of violence. Collier, along with Gracie, Mad Dog's daughter, take the brunt of the assault, leaving them struggling to survive for weeks in the hospital.
Meanwhile, Atlanta PD officer Reid Langley decides to leave the violent city behind and take a cushy job as Sheriff in the small town of Hayden, Wyoming. All appears to go as uneventful as planned until a serial killer shows up to wreak havoc on the safe haven Reid is determined to protect. Just when he thinks he has all that he can handle, Reid finds himself harboring his old friend, a nurse, and an innocent young girl.
The battle is on as this group of characters embarks on a race against time to locate a serial killer and to track down the elusive Consuelos before he can take his revenge.
Buy the ebook:
Buy the Book On Amazon

Author Bio:
Award-winning author Kim Carter is a prolific writer of contemporary mystery, suspense, and edge-of-your-seat thriller reads. Book two of her new novel series has won a 2017 Readers' Choice Award. A fan favorite among avid mystery readers, Kim has newly re-released When Dawn Never Comes, No Second Chances, and Deadly Odds in all new editions in January 2018. The Clara and Iris Mystery series includes Sweet Dreams, Baby Belle as book one of the series in June 2017. Book two, Murder Among The Tombstones, released August 2017, and the book award winner!
Kim has now released another new mystery titled And The Forecast Calls For Rain in January 2018. All her books are available on Amazon, Barnes & Noble, Books-A-Million, and Smashwords. They are all published by Raven South Publishing of Atlanta, Georgia.
Kim has been writing mysteries for some time and has a large reader fan base and she enjoys interacting and engaging with them all. One of her favorite things about writing is the traveling and research required to bring her novels to life. Her research has taken her to places such as morgues, death row, and midnight cemetery visits.
Kim and her husband have raised three successful grown children. As empty nesters, they spend their time with their three retired greyhounds. She is a college graduate of Saint Leo University, has a Bachelor Degree of Arts in Sociology, and now has become a career writer and author. She lives in Atlanta, Georgia.
Between reading and traveling with her beautiful family, she will continue to write mysteries for some time to come for her avid readers.
Follow the author on social media:
Learn more about the writer. Visit the Author's Website
Facebook Fan Page
Twitter
This site contains affiliate links to products. We may receive a commission for purchases made through these links.