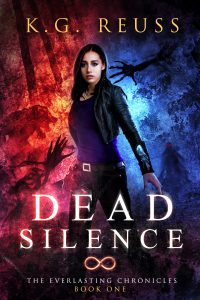 "About Dead Silence (The Everlasting Chronicles, Book 1):
Dead. Not Gone. Definitely not silent.
My name is Everly, and I'm haunted by the dead. Or maybe hunted is a better word since it seems the dead want to make me one of them. Luckily, I have Shadow on my side, the formidable, powerful being who's been with me since the start of all the madness. He never speaks. But I know he's my protector, slaying the demons that get too close and saving me from whatever seeks to harm me, even myself. I just want a normal life. But I'm not normal. And nothing is as it seems. Not even Shadow. He's so much more than I imagined.
My fear and destiny collide to bring me to the doorstep of a place I never dreamed possible. I won't be alone. Shadow will be there. And so will they. The dead. Because I'm never alone.
Dead Silence is book one in The Everlasting Chronicles. Reader Discretion advised due to dark subject matter.
Targeted Age Group: 16+
Written by: K.G. Reuss
Buy the ebook:
Buy the Book On Amazon
Buy the Book On Barnes & Noble/Nook
Buy the Book On Apple Books
Buy the Book On Kobo
Buy the Audio Book:
Buy the Book On Amazon
Buy the Book On Audible
Buy the Print Book:
Buy the Book On Amazon
Buy the Book On Barnes & Noble/Nook
Author Bio:
K.G Reuss was born and raised in northern Michigan. She currently resides there with her husband, her children, two dogs, a cat, and a few ghosts. K.G. is the author of The Everlasting Chronicles series, Emissary of the Devil series and The Chronicles of Winterset series.
When K.G. Reuss isn't pursuing her love for reading and writing, she is working in emergency medicine.
Follow the author on social media:
Learn more about the writer. Visit the Author's Website
Facebook Fan Page
Twitter
Instagram
This site contains affiliate links to products. We may receive a commission for purchases made through these links.