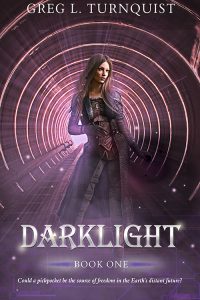 About Darklight:
Snitch, a young woman who grew up on the medieval streets of Kelmar as a thief, has learned something terrible. The regime's evil military ruler has learned the hideout location of the resistance she joined and ordered an all out assault. Combined with the captain of the disbanded royal guard, a political prisoner, a duke's daughter, and an old advisor, can her team rise to action and free Kelmar?
Buy the ebook:
Buy the Book On Amazon

Author Bio:
Greg is a test-bitten script junky. He is a member of the Spring team at Pivotal. He works on Spring Data REST, Spring Boot and other Spring projects, while also working as an editor-at-large of Spring's Getting Started guides. He launched the Nashville JUG in 2010. He created Spring Python and wrote "Spring Python 1.1", "Python Testing Cookbook", and "Learning Spring Boot". He has been a Spring fan for years.
When he's not slinging code, Greg is writing YA speculative fiction including his DARKLIGHT series.
Follow the author on social media:
Learn more about the writer. Visit the Author's Website
Facebook Fan Page
Twitter
Instagram