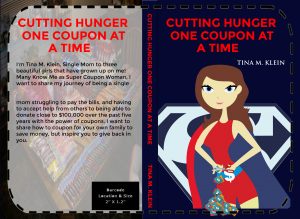 "About Cutting Hunger One Coupon At A Time:
Learn how one single mom went from struggling financially having to rely on help from her community to keep the bills paid to becoming Super Coupon Woman and donating well over $100,000 to her community with the power of coupons! She shares her story and teaches how to coupon in easy to follow steps so others can save money in their everyday lives and inspire others to pay it forward in their communities also
Targeted Age Group: 20-60
Written by: Tina Klein
Buy the ebook:
Buy the Book On Amazon

Author Bio:
My name is Tina M. Klein. I am a single mom to three beautiful girls that have all grown up on me. I struggled financially as a newly divorced mom trying to keep the bills paid and food on the table, sometimes having to rely on others from my community to make this happen. In 2008, I learned the power of coupons. I was saving so much money that I soon realized I had enough to donate to my local food pantry. I not only wanted to give back to my community, but to inspire others to do the same. I reached out to the media even though I was shy in hopes of getting others to do the same. I started giving myself challenges to meet to keep donating a priority. Before I knew it, my donations exceeded over $100,000 and I'm still going strong. Others encouraged me to share my story and share how to coupon so they could learn to do the same. I share my story in my book "Cutting Hunger One Coupon At A Time".
Follow the author on social media:
Learn more about the writer. Visit the Author's Website
Facebook Fan Page
Twitter
Instagram
This site contains affiliate links to products. We may receive a commission for purchases made through these links.