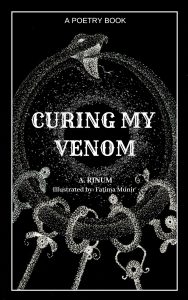 "About Curing My Venom:
A poetic journey that leads through the five stages of grief.
Denial, Anger, Bargaining, Depression, and Acceptance.
Curing My Venom is about mental illness, failures, and self-healing.
Tiny speck of hope
peeking through my window
tell me what you seek
there is nothing for you here
maybe you should leave
I am just an ounce of emptiness
fading behind this dark
stay away from me
before you lose your spark.
O' my foolish child
how do you not know?
You are the light I come for
and yet you have no clue?
this spark you see in me
is a reflection of you.
Because, darling, you are hope
Targeted Age Group: Young adults
Written by: A. Rinum
Illustrated by: Fatima Munir
Buy the ebook:
Buy the Book On Amazon
Buy the Book On Barnes & Noble/Nook

Buy the Print Book:
Buy the Book On Amazon
Buy the Book On Barnes & Noble/Nook
Author Bio:
Rinum is an immigrant, who moved to the United States from Pakistan when she was four years old. Its been a back and forth journey for her ever since. She graduated from Hunter College with a bachelors in biochemistry and a minor in creative writing. Her books span from the sci-fi realm to the kingdom of poetry and literary fiction.
Follow the author on social media:
Learn more about the writer. Visit the Author's Website
This site contains affiliate links to products. We may receive a commission for purchases made through these links.