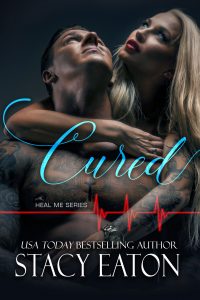 "About Cured, Heal Me Series, Book 1:
Ember Greene and Trudy Parker met during their college years and on the night that they meet at Shot Therapy to reconnect, Embers's life begins to change. For six years, Ember has closed off her heart, moving from one man to another, trying to feel something other than her own pain and guilt.
Colt Barnes is a plastic surgeon who strives to give people a better quality of life, especially children. The night he watches Ember leave the bar with another one-night stand, he resolves to offer up a challenge to get her to view herself in a new light.
Little does he know that the challenge will change both their lives, but when Embers's secret is exposed, will Colt be able to accept it and trust her, or will Ember go back to her old ways and leave Colt broken?
Targeted Age Group: 18+
Written by: Stacy Eaton
Illustrated by: Natasha Brown
Buy the ebook:
Buy the Book On Amazon
Buy the Book On Barnes & Noble/Nook
Buy the Book On Apple Books
Buy the Book On Kobo
Author Bio:
Stacy Eaton is a USA Today Bestselling author and began her writing career in October of 2010. Stacy took early retirement from law enforcement after over fifteen years of service in 2016 due to a second serious concussion. Her last three years on the job were in investigations and crime scene investigation. She now writes full-time.
Stacy resides in southeastern Pennsylvania with her husband, who works in law enforcement, and her teen daughter. Stacy also has a son who is currently serving in the United States Navy. She is also very involved in Domestic Violence Awareness and served on the Board of Directors for her local Domestic Violence Center for three years.
Stacy writes a variety of genre's, but mostly romance. She enjoys writing real-life stories that people can relate too with real-life problems, emotions, and solutions.
Her favorites: Classic cars, photography, Disney, music, coffee and her favorite sweatshirt that says, "You are dangerously close to being killed in my next novel."
Follow the author on social media:
Learn more about the writer. Visit the Author's Website
Facebook Fan Page
Twitter
Instagram
This site contains affiliate links to products. We may receive a commission for purchases made through these links.