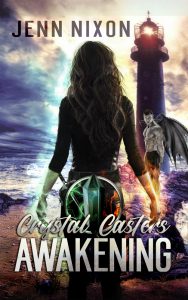 "About Crystal Casters: Awakening:
When Cyndra Raine inherits her grandmother's crystal, she inadvertently awakens a lethal elemental force she doesn't understand. Panicked and desperate, she flees the safety of her village, determined to find answers only to run into a man named Rune with the same abilities and questions.
Zorin has spent twenty-five years soaring over his island waiting for something, anything, to change. After sensing caster power he can't ignore, he leaves the island and finds two casters under attack on the mainland. He's shocked to learn Cyndra and Rune are ignorant of their lineage and the war that destroyed the world.
Intrigued by Cyndra and the immense power she possesses, Zorin promises her the truth about the past in exchange for her help. Inexplicably drawn to the winged man, Cyndra agrees to his terms and together they begin a journey that tests everything she knows about her world and discovers a connection to Zorin more profound than any she's ever imagined.
Targeted Age Group: 17+
Written by: Jenn Nixon
Buy the ebook:
Buy the Book On Amazon
Author Bio:
Jenn's love of writing started the year she received her first diary and Nancy Drew novel. Throughout her teenage years, she kept a diary of her personal thoughts and feelings but graduated from Nancy Drew to other mystery suspense novels.
She often adds a thriller and suspense element to anything she writes be it Romance, Science Fiction, or Fantasy. When not writing, she spends her time reading, observing pop culture, playing with her two dogs, and working on various charitable projects in her home state of New Jersey.
Follow the author on social media:
Learn more about the writer. Visit the Author's Website
Facebook Fan Page
Twitter
This site contains affiliate links to products. We may receive a commission for purchases made through these links.