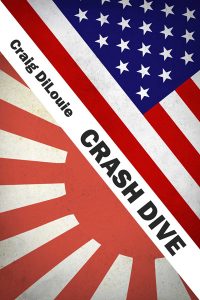 About Crash Dive: a novel of the Pacific War:
The first book in the popular Crash Dive series!
1942. Lieutenant Charlie Harrison reports for duty aboard the S-55, a worn-out WWI-era submarine. While the Battle of Guadalcanal rages on land, air, and sea, the captain plans a daring attack against Rabaul, the heart of Japanese power in the South Pacific. There, the hunter will become the hunted.
"Adventure fiction in the grand tradition of the Hornblower series … Crash Dive blew me away." – John Dixon, award winning author of Phoenix Island
For fans of Run Silent, Run Deep by Edward L. Beach, The Horatio Hornblower series by C. S. Forester, and The Hunt for Red October by Tom Clancy.
Buy the ebook:
Buy the Book On Amazon

Author Bio:
Craig DiLouie is an American-Canadian author whose work has been nominated for major literary awards such as the Bram Stoker Award and Audie Award, translated into multiple languages, and optioned for film. He writes in a range of genres including thriller, apocalyptic/horror, and sci-fi/fantasy.
In hundreds of reviews, Craig's novels have been praised for their strong characters, action, and gritty realism. Each book promises an exciting experience with people you'll care about in a world that feels real.
His upcoming release is a contemporary dark fantasy called One of Us to be published in hardcover and paperback by Orbit (Hachette).
Follow the author on social media:
Learn more about the writer. Visit the Author's Website
Facebook Fan Page
Twitter