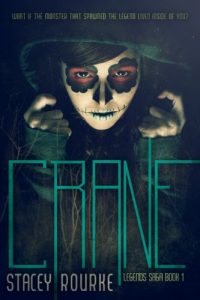 "About Crane:
The Horseman is unending,
his presence shan't lessen.
If you break the curse,
you become the legend.
Washington Irving and Rip Van Winkle had no choice but to cover up the deadly truth behind Ichabod Crane's disappearance. Centuries later, a Crane returns to Sleepy Hollow awakening macabre secrets once believed to be buried deep.
What if the monster that spawned the legend lived within you?
Now, Ireland Crane, reeling from a break-up and seeking a fresh start, must rely on the newly awakened Rip Van Winkle to discover the key to channeling the darkness swirling within her. Bodies are piling high and Ireland is the only one that can save Sleepy Hollow by embracing her own damning curse.
But is anyone truly safe when the Horseman rides?
Buy the ebook:
Buy the Book On Amazon
Buy the Book On Barnes & Noble/Nook
Buy the Book On iBooks/iTunes
Buy the Book On Kobo

Author Bio:
Utopia Award Winner Author of the Year 2018
Utopia Award Winner for Best Villain 2018 for Ursela in Rise of the Sea Witch
Readers' Favorite YA Fantasy Bronze Medal Winner 2017
Readers' Favorite Fantasy Silver Medal Winner for 2015
Turning Pages Magazine Winner for Best YA book of 2013 & Best Teen Book of 2013
RONE Award Winner for Best YA Paranormal Work of 2012
Young Adult and Teen Reader voted Author of the Year 2012
Stacey Rourke is the award winning author of works that span genres, but possess the same flare for action and snarky humor. She lives in Florida with her husband, two beautiful daughters, and two giant dogs. Stacey loves to travel, has an unhealthy shoe addiction, and considers herself blessed to make a career out of talking to the imaginary people that live in her head.
Follow the author on social media:
Learn more about the writer. Visit the Author's Website
Facebook Fan Page
Twitter
This site contains affiliate links to products. We may receive a commission for purchases made through these links.