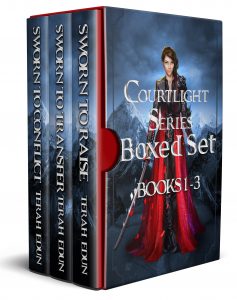 About Courtlight Series Boxed Set: Books 1-3:
The fate of an empire lies in the hands of peasant girl Ciardis, who must master court intrigue, befriend a crown prince, and learn to control her magical abilities. A thrilling trilogy of high adventure!
Buy the ebook:
Buy the Book On Amazon
Buy the Book On Barnes & Noble/Nook
Buy the Book On iBooks/iTunes
Buy the Book On Kobo

Author Bio:
Terah Edun is a YA fantasy writer whose heroine-centered Algardis Universe includes four series: Courtlight, Crown Service, Blood & Iron, + Algardis.
Follow the author on social media:
Learn more about the writer. Visit the Author's Website
Facebook Fan Page
Twitter