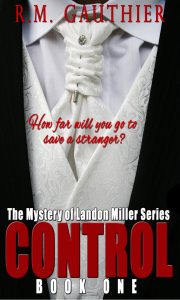 About Control (The Mystery of Landon Miller Book 1):
How far will you go to save a stranger?
On a night that's supposed to be full of fun and adventure, Alexandria enters an exclusive club only to find herself tangled in a web of deceit that leads back fifteen years.
Buy the ebook:
Buy the Book On Amazon

Author Bio:
RM Gauthier lives in Ontario, Canada and has a diploma in Film & TV Production.
She began her writing career late in life, which she has been quoted saying, "better late than never." She has successfully published several short stories and novels having the time of her life doing it. She loves every part of writing from creating the characters to describing the worlds.
When she dons her cape for her daytime gig she can be found managing a go-kart track, which is also fun too!
Follow the author on social media:
Learn more about the writer. Visit the Author's Website
Facebook Fan Page
Twitter
This site contains affiliate links to products. We may receive a commission for purchases made through these links.