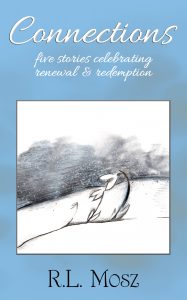 "About Connections: Five Stories Celebrating Renewal and Redemption:
Connections: Five Stories Celebrating Renewal and Redemption
A collection of thought-provoking stories that explore the transforming power of love in friendship and family life.
Golden Boy
Despite a promising future, Tony Kolinski drops out of medical school and hits the skids.
A Touch of Evil
Having survived a disastrous marriage, physicist Dr. Damon Devereaux struggles to recover from an infected physical wound and a shattered soul.
Hardship House
Katie and Danny purchase their Craftsman dream house, but soon thereafter he is diagnosed with a serious medical condition.
Reflections
Rowena has a haunting dream that forever alters her future.
The Lake
Katrin meets a mysterious stranger at the lake who completely transforms her life.
Targeted Age Group: adults
Written by: R. L. Mosz
Buy the ebook:
Buy the Book On Amazon

Buy the Print Book:
Buy the Book On Amazon
Author Bio:
R. L. Mosz is the author of three indie novels and a book of short stories. Her preferred themes are healing, personal growth, and family relationships.
Her books include The Keeper (a social satire examining post-traumatic stress disorder), Roses in December (a family drama about falling in love with the wrong person), Curandero (an exploration of the mind-body connection in medicine and the power of personal change), and Connections (five short stories showcasing the topics of addiction, domestic strife, serious illness, and environmental destruction).
R. L. Mosz works with developmentally disabled individuals and resides in southeast Arizona. She enjoys the great outdoors and visiting state and national parks.
Follow the author on social media:
Learn more about the writer. Visit the Author's Website
This site contains affiliate links to products. We may receive a commission for purchases made through these links.